The "Out of the Mouth of Babes" Proverb Shows the Wisdom of Youth and Helps in Our Fight Against Climate Chaos
The following story was published in the Bulletin of the Atomic Scientists in July 2023 and shows that "young and inexperienced persons often can be remarkably wise" [Dictionary.com]. The following is quoted from the July 4, 2023, publication.

"Ford CEO Jim Farley was driving his family back from a vacation in Lake Tahoe last summer when he recognized something most EV [electric vehicle] owners know well. Public charging can be a headache.

On the 300-mile trip to Monterey, California, it wasn't easy to find places to plug in his Ford Mustang Mach-E. His children had no problem, however, spotting the numerous Tesla Supercharger stations along the way.

My kids kept looking at me, 'Hey Dad, there's another Supercharger, can we stop there? How about there?' I'd say, 'No, we have to go over there, behind this other building.' Farley said that was when he realized Tesla had done far better than any other charging network in creating an easy, dependable, and accessible experience. So easy, in fact, that he wanted Ford customers to be able to access it too."

Within a short period of time Mr. Farley and Ford had an agreement with Tesla CEO Elon Musk that in early 2024, Ford would offer an adapter to allow Ford drivers to connect to the vast network of Tesla's 12,000 Supercharger fast-charging stations. Furthermore, in 2025, the company's EV's will be manufactured with Tesla's charging port. See photo of a Ford F-150 at a Tesla Supercharger station.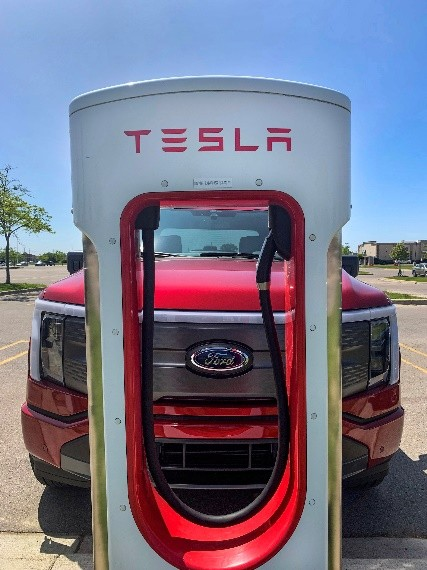 A stampede followed; more or less. At this time most other major auto majors have made similar agreements with Tesla, including GM, Volvo, Rivian, BMW, Stellantis, Hyundai, and more. The plan is to collectively open 30,000 new fast-charging stations across North America starting in 2024.

This is a big deal. Why is this important?

See the pie shaped chart here [from EPA] which shows that the "Transportation" Economic Sector accounts for 28% of all U.S. carbon emissions in 2021. These emissions come from burning fossil fuels for our cars, trucks, ships, trains, and planes. Over 94% of this fuel is petroleum based, primarily gasoline and diesel.

This move towards a charging station standard will help the transition from ICE's [internal combustion engines] to EV's and address the largest source of greenhouse gas [GHG] emissions in the U.S. This is in line with the national objective to stop producing new internal combustion vehicles by 2035.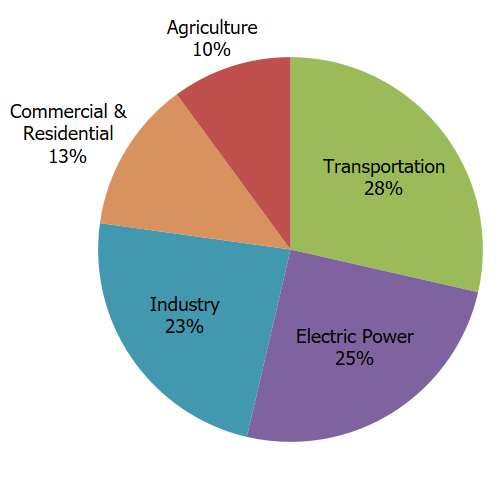 And, reducing carbon dioxide emissions is a critical objective as recent 'climatic chaos' events have demonstrated.

Phoenix, Arizona had an unprecedented 31 days in a row of temperatures above 110 degrees Fahrenheit and one daily high of 119 degrees this summer. A new record. Its' average high for July was 102.7 degrees, also a new record.

In addition to severe droughts elsewhere in the world [i.e., U.S. southwest, North Africa etc.], we also can see what happens in a country whose critical infrastructure impacts businesses, consumers, and supply chains across the whole global economy.

Enter the Panama Canal. An "unprecedented drought" in Panama has dropped the water levels in Gatun Lake so that the maximum draft of ships passing through has been reduced by over 6 feet. One large ship, [see photo: Panama Canal Authority] had to offload 1,400 shipping containers, have them transported by railroad to the far end, and then reloaded onto the ship again after it passed through the canal.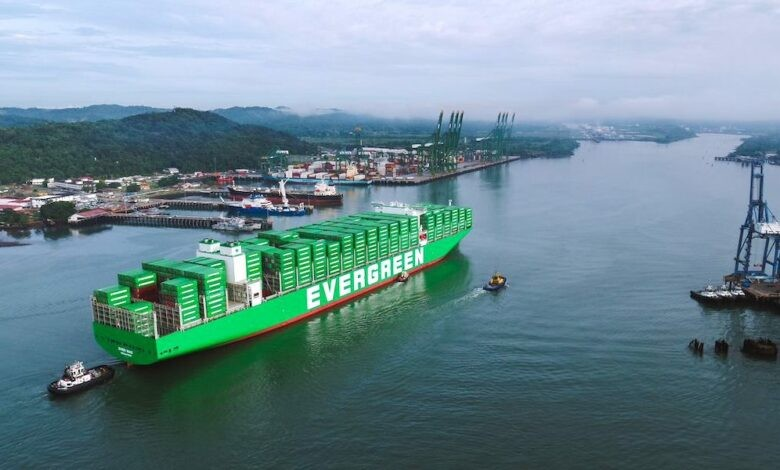 The low water levels also slowed the transit times of the vessels and led to 15 – 19 days delays per vessel, at each end, in August 2023. See photo of map of Canal with the round circles at each end representing ships waiting to pass through.



This drought is costing all of us. These delays add more emissions to the atmosphere as the ships idle in place, and costs for transport increase as crew and ship spend weeks just waiting for passage. Thomas Zaidman, managing director of Sagitta Marine stated, "The Panama Canal delays are a reminder of the urgent needto address climate change … and we need to take action to reduce our emissions … ."

But we knew of all this already, a long time ago. As a matter of fact, many friends just celebrated the 204th birthday of Eunice Newton Foote who was born on July 17, 1819. That is not a misprint.

She was the first scientist to conduct experiments to conclude "that rising carbon dioxide [CO2] levels would change atmospheric temperature and could affect climate" [Wikipedia]. Her 1856 paper titled; "Circumstances Affecting the Heat of Sun's Rays" laid the foundation for much of our modern concept of atmospheric warming.

See image of a portion of the first page of the two-page publication. Her third observation states, A cylinder filled with carbon dioxide warmed even more [than moist air], and, once removed from the light, "it was many times as long in cooling." Her paper was not delivered by her but by Joseph Henry of the Smithsonian Institution.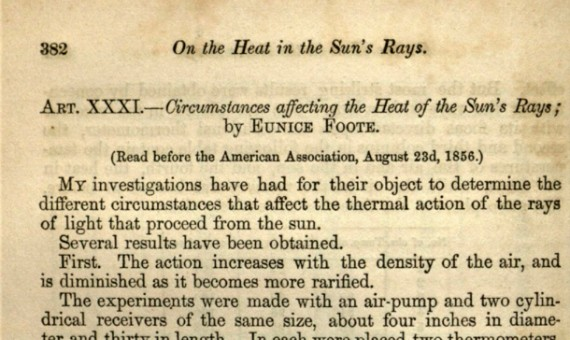 And so it goes.
"When we try to pick out anything by itself, we find it hitched to everything else in the universe." — John Muir [EcoWatch July 25, 2023]


The scientific career of Raymond N. Johnson, Ph.D., spanned 30 years in research and development as an organic/analytical chemist. He is currently founder and director of the Institute of Climate Studies USA (www.ICSUSA.org). Climate Science is published monthly.